EXPANSION VARIANTS
The charging stations are available optionally with one or two charging points and with or without a display. Furthermore, they are available in the versions Basic, Smart and Public. This means that every requirement can be met.
Due to the pre-installed Monta Backend, user management and integration of the charging station into the Monta App and the Monta Online Portal is already possible from the Basic variant. The Monta Backend can be replaced during installation by the integrated OCPP interface (Open Charge Point Protocol) with any OCPP-capable charging management system.
BASIC
The Basic version is intended for simple home applications and has all the technical features required to ensure future-proof charging. Already here, the integrated LAN interface enables user management, including activation with RFID chip and the Monta app.
The Basic version also has an OCPP interface, is "solar ready" and supports "Plug & Charge". Thanks to the modular design, the inner workings of the charging station can also be replaced by a specialist electrician and thus upgraded.
SMART
The Smart variant has additional hardware that protects the power line from overheating and enables individual accounting of each charging process with a time stamp.
This ensures that all charging processes in the semi-public area can be accounted for via the pre-installed Monta backend and the Monta app. For example, fleet and load management is just as possible as team charging cards or a transaction overview. The charging stations for the semi-public area support roaming and ad-hoc charging, but do not comply with calibration regulations.
PUBLIC
The Public version additionally has all the relevant components for use in public areas. Of course, the Public version complies with calibration regulations and can also be connected via mobile radio.
Thanks to the OCPP interface (Open Charge Point Protocol), the charging station can also be integrated into any existing OCPP-capable management system. With the S.A.F.E transparency software, the consumer has the possibility to check the validity of digitally signed measured data of charging processes. This ensures that the invoiced amounts have not been manipulated by third parties.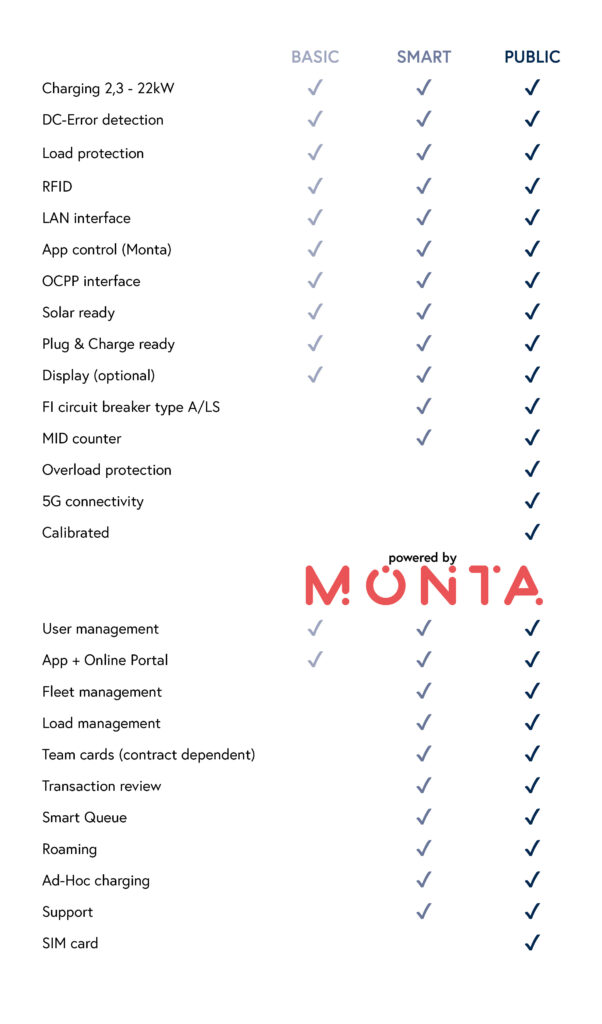 Alternative backend provider on request. Errors and technical modifications excepted.